EBC PD01KR974 Brakes Pad and Rotor Kit to fit Rear for LAND ROVER Range L3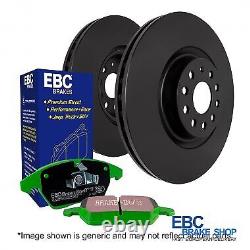 EBC PD01KR974 Brakes Pad and Rotor Kit to fit Rear for Range Rover L322 5. Brake Pad & Disc Kit Pad A Dimensions: 117x61x16.5 Disc Type: Plain Solid or Vented: Vented Disc Bolts 5 Disc Diameter 365mm Disc Height 75mm Disc Thickness New 20mm Disc Thickness Min 20mm Kit Components DP62068 + D1722. LAND ROVER Range Rover L322 4.4 Twin Turbo Diesel 313. LAND ROVER Range Rover L322 5 Supercharged. WG Motorparts is built on our passion for cars.
We supply aftermarket car parts for all makes and models of vehicles. Our network of over 50 global manufacturers means that we can get the parts you need, when you need them. And because we deliver worldwide we can send those parts anywhere, direct to your door. So if you need a specific part or a custom package that isn't listed on our website yet, get in touch and we'll do all the work. Get in contact with one of our knowledgeable support representatives today.
Please be aware that some of our items are made to order and can carry extended lead times. Upon receipt of your order please check the package and contents.
"Item arrived quickly, no issues, will trade againfor sure". "Happy, good postagedeal with anytime".