IO Pedalbox Landrover Range Rover Evoque (LV, L538, 11-19) 2.0d 150PS/110kW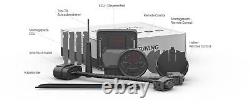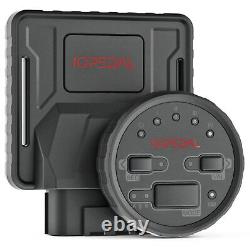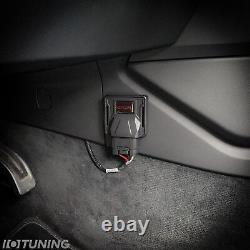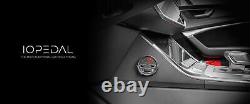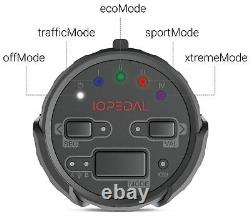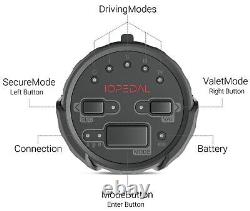 Bei Fragen zum Artikel, wenden Sie sich bitte an unser Support Team! Wir helfen Ihnen gerne weiter! IO Pedalbox Landrover Range Rover Evoque (LV, L538, 11-19) 2.0d 150PS/110kW. Verleihe deinem Fahrzeug einen neuen Charakter und optimiere das Ansprechverhalten und die Reaktionszeit mit dem neuen IOPEDAL. Das innovative kabellose Bedienkonzept ermöglicht dir die ultimative Freiheit in der Steuerung deines Gaspedal-Tunings.
Mit dem IOPEDAL erhält Ihr Auto ein dynamischeres Ansprechverhalten und eine optimierte Beschleunigung. 4 funktionelle Fahrprogramme (traffic/eco/sport/xtreme) - jeweils mit 5 Unterprogrammen. Remote Control - kabellose Bedienung. Erweiterte Sicherheitsfunktionen - secureMode & valtetMode.
Einfacher Einbau - Plug & Play. Mit der Bedieneinheit steuerst du dein IOPEDAL, ohne dabei den Blick auf das Wesentliche zu verlieren. Neben dem aktuell gewählten Fahrprogramm (Driving Mode) hast du alle weiteren Zustände direkt im Blick. Die Batterie-LED signalisiert dir den Ladezustand und die Connection-Anzeige die Verbindung zur ECU. Über den Left- und Right-Button kannst du die verschiedenen Fahrprogramme durchschalten. Mit dem Mode-Button wechselst du in den Adjust-Mode des jeweiligen Programms. Dort hast du die Möglichkeit, jedes Fahrprogramm in 5 weiteren Stufen auf deine Bedürfnisse abzustimmen. Die gewählte Einstellung wird dir immer über die RGB-LEDs signalisiert. Die Steuereinheit (ECU) verfügt über eine intelligente Kalibrierungsfunktion.
Direkt nach dem Einbau des IOPEDALs werden alle notwendigen Informationen deines Gaspedals automatisch analysiert und zum optimierten individuellen Kennfeld verarbeitet. Dadurch werden die einzelnen Driving Modes (Fahrprogramme) automatisch an die Eigenschaften des Gaspedals angepasst. Mit dieser revolutionären Technik werden alle Potenziale deines Fahrzeugs ermittelt und ausgeschöpft. Neben der Auto-Ranging-Funktion besitzt das IOPEDAL noch eine Reihe weiterer interessanter Funktionen und Einstellungsmöglichkeiten z. Mit diesen 4 verschiedenen Driving Modes stimmst du dein Fahrzeug auf deinen Wunsch zu jeder Zeit auf jede Situation ab.
Traffic mode: Fremdes Terrain und zu viel Verkehr? Mit diesem Modus kannst du es ruhiger angehen lassen. Dein Gaspedal reagiert somit weniger sensibel - gerade beim Anfahren. Dein Stresslevel wird es dir danken. Eco mode: Beim Autofahren lässt sich durch ein paar Tricks Kraftstoff und damit Geld sparen.
Dieses Fahrprogramm unterstützt dich dabei, den durchschnittlichen Verbrauch des Autos zu senken, wenn dazu gewisse Regeln des ökonomischen Fahrens beachtet werden. Sport mode: Mit diesem Fahrprogramm erhält dein Fahrzeug einen sportlicheren Charakter. Dein Auto reagiert mit einem deutlich besseren Ansprechverhalten und einer gradlinigeren Beschleunigung.
Die Reaktionszeit des Motors wird dabei erheblich verbessert. Extreme Mode: Sollte dich das Sport-Programm noch nicht zufriedenstellen und du magst es bis an die Grenze zu gehen, dann versuche es doch damit.
Besondere Situationen erfordern besondere Fähigkeiten. Mit diesen Zusatzfunktionen meisterst du auch diese: securemode: Aktiviere den secureMode und dein Gaspedal ist ab dem nächsten Neustart deines Fahrzeugs deaktiviert. Damit sicherst du dein Fahrzeug zusätzlich ab und beugst dem Diebstahl vor. Erst mit der Entsperrung durch die Bedieneinheit ist das Fahrzeug wieder wie gewohnt fahrbereit oder valetmode: Jeder kennt diese Situation: Du hast kein gutes Gefühl dabei, dein Fahrzeug einem Fahrdienst oder einem unerfahrenen Fahrer zu übergeben? Dann limitiere doch einfach die Leistung deines Fahrzeugs.
Mit diesem Modus kannst du die Funktionalität deines Gaspedals je nach Belieben prozentual eingrenzen, sodass z. Nur noch 80% oder weniger des Leistungsspektrums deines Fahrzeugs zur Verfügung stehen. Passend für: Landrover Range Rover Evoque (Typ LV, L538, 06.11 bis 12.19) 2.0D, 150PS/110kW, 1999ccm.
IOPEDAL- The multi-functional accelerator pedal tuning. Give your car a new character and optimize response and reaction time with the new IOPEDAL. The innovative wireless concept that gives you ultimate control over your accelerator pedal.
4 different driving modes trafficMode, ecoMode, sportMode, extremeMode - each with 5 subprograms. Wireless Remote Control - flexible operation.
Auto-Ranging function - Smart calibration. Advanced security features (secureMode or valetMode). Simple installation - Plug & Play.
With the Remote Control it's easy to adjust your IOPEDAL without losing sight of the essentials. Driving-mode, security-status, connection- and battery-information are all available at a push of a button. The RGB LEDs allow for an intuative operation of the IOPEDAL. You can switch through the various driving modes using the Left- and Right-buttons. With the Mode-button you can switch to the subprogram of the current driving mode.
There you have the possibility to adjust each driving mode in 5 further subprograms. The selected setting is always signaled to you via the RGB LEDs With the supplied holder and the mounting pads, the remote control can be flexibly mounted in the cockpit in sight or if you want a bit more hidden. The IOPEDAL has an intelligent calibration function. After installation, all the necessary information from your accelerator pedal is analyzed and processed into optimized and individual maps. This means, the individual driving modes (driving programs) are automatically adapted to the characteristics of your accelerator pedal.
With this revolutionary technology, all the potential of your vehicle is determined and set to work. In addition to the auto-ranging function, the control unit has a number of other interesting functions and setting options, for example. With the 4 different Driving Modes you can tune your vehicle to any situation at any time. Too much traffic or unfamiliar environment? With this mode, you can take it easy.
The reaction of your accelerator pedal is reduced - especially when starting from a standstill. Your stress level will thank you. This driving mode gives your car a sporty disposition. Your car will have a significantly better response, smooth acceleration and a reduced throttle lag. When the sportMode just isn't enough..
Special situations require special skills. With these additional functions you can also master them. Activate the secureMode and at the next start of your vehicle, your accelerator pedal will be disabled. This provides an additional security layer for your vehicle and prevents theft. The accelerator pedal will unlock as soon as the remote control is activated.
You don't feel comfortable handing over your vehicle to a driving service or an inexperienced driver? Then simply limit the power of your vehicle.
With the valetMode you can limit the range of your accelerator pedal so that only a limited range and power is available. Fitting for: Landrover RANGE ROVER EVOQUE (L538), (06/2011 bis 12/2019) 2.0 D, 150HP/110kW, 1999ccm.
H&R DRA Spurverbreiterung Distanzscheibe Spurplatten 40mm / 2x20mm 5x120 NB 72.5. H&R Federn mit ABE 35mm Hyundai i30N + Performance, FL 21 (PDE) Tieferlegung.
Eibach Sportline ABE Federn 45-50/30-35 mm VW Golf V 1K1 / Golf VI 5K1 Springs. Eibach Pro-Kit Tieferlegungsfedern 15mm Hyundai i30N 2.0N + Performance, Fastback. H&R DRA Spurverbreiterung Distanzscheibe Spurplatten 40mm / 2x20mm 5x112 NB 57.1.
Pipercross Tauschfilter Hyundai i30N+Performance 250/275/280PS Sportluftfilter. H&R SV 40mm 40556658 Audi A6 4G, 4G1 Spurverbreiterung Spurplatten. H&R Federn 55/35mm 29484-1 BMW 3er E46 346L/R Tieferlegung Sportfedern. Eibach Pro-Kit ABE Federn 35/30mm Audi A4 Limo + Avant 8K2, B8 Lowering Springs. H&R Federn ABE 35mm 29261-2 Audi A3 8P ab 1021 kg Tieferlegung Sportfedern.
Eibach Pro-Spacer Spurverbreiterung 40 mm (2 x 20 mm) Mercedes LK 5/112 NB 66.5. Pipercross Sportluftfilter Hyundai i30 N + Fastback (PDE, ab 17) 250/275/280PS.
Eibach Sportline Federn mit ABE VA 25-30 / HA 25 mm Skoda Octavia RS 5E. Eibach Pro-Kit Federn 40-45/45mm VW Bus Transporter T4 E8539-120. Eibach Pro-Kit Federn 35/30mm Audi A4 Avant (8K5, B8) E10-15-011-01-22.
H&R Federn ABE 35/20mm 29485-1 BMW 3er E46 346L/R Tieferlegung Sportfedern. Eibach Pro-Kit Federn BMW 3 E46 Limousine, Coupe, Cabrio, Touring E2067-140. Powered by MMM Automotive GmbH. This item is in the category "Auto & Motorrad: Teile\Auto-Tuning & -Styling\Chiptuning & Motortuning\Tuning Software". The seller is "mmm-automotive" and is located in this country: DE.
This item can be shipped worldwide.
Hersteller: IOTuning
Herstellernummer: P1-106-477
Marke: IOTuning