Land Rover Range Rover Classic 2 door Campervan 6x4 Conversion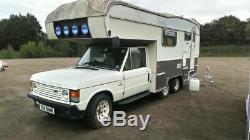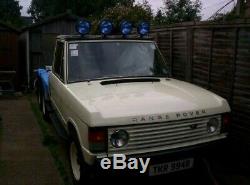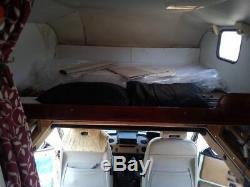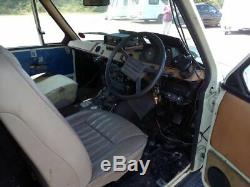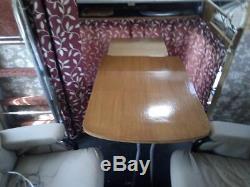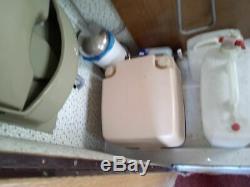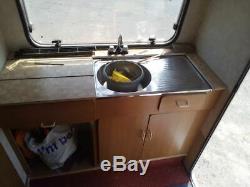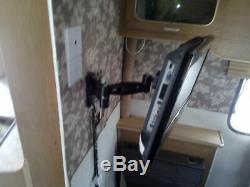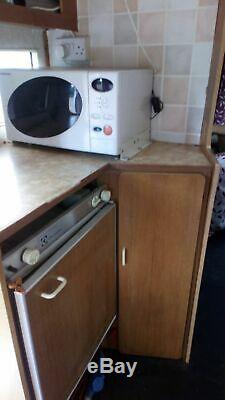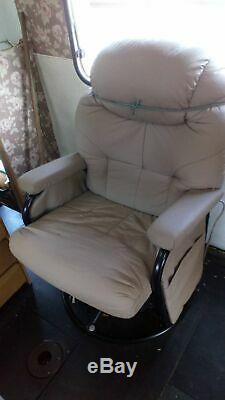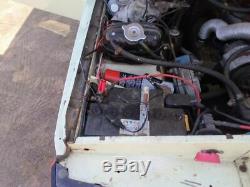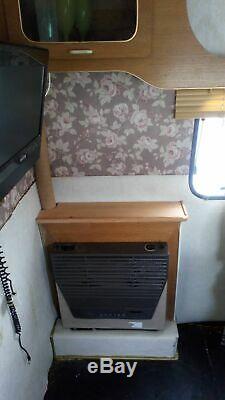 It is being relisted due to a serious time waster. Work is about 95% complete and the project comes with a good quantity of materials and a high level of equipment.
The base vehicle is constructed from a 1977 Range Rover 2 door, 3.5 litre, petrol Classic. The bodywork was removed and the chassis was stretched by the addition of a part chassis and rear axle from a donor RR, resulting in a 6 x 4 configuration. This work was done, to my specification, by a local motor engineer in Derby.
A new rear bumper was added at this stage. This contains rear lights number plate mounting and a variable height Land Rover tow ball assembly. New mudguards were fitted over the rear wheels thus allowing the vehicle to be driven without the accommodation mounted. The removed bodywork was modified by the removal of everything past the B post, including the roof and floor. The remainder was completely restored.
This included repairs to the front bulkhead, lower A and B posts and parts of the floor. The B posts were modified by the addition of a timber cornerpost to allow the cab to be enclosed by the addition of a two part roof and rear panel; both removed to allow access to the acommodation, if fitted. The front axle was completely restored and ball joint gaiters were added. All six disc brakes were restored to'as new' and a new clutch friction plate was fitted.
The original petrol tank was resited just behind the shortened cab and is filled from lockable cap in the nearside B post corner. A three tank propane fuel system was installed, comprising of two tanks under the sills and one tank at the rear. This requires minor completion and commissioning. Tragically there are very few photographs of the above due to my old computer hard drive dying with no back up.
Accommodation The accommodation unit was created from the roof and walls of an Avondale two berth caravan. The unit is designed to detach from the vehicle if required, and is mounted on its own sub frame. This allowed the caravan bodywork to be stretched and fitted onto a new floor, laid on the subframe. The resulting structure was then blended into the Range Rover. Jacking points, a high lift jack and heavy duty steadies are provided to allow detachment.
When detached the cab can be enclosed using the roof and rear panel (as noted above). These are stored in a locker beneath the accommodation floor when not required. Insulation is provided by polystyrene bonded between the inner wall and external aluminium using polyurethane foam. The vehicle was unofficially weighed in its current build state at 3200 kg. Layout Description Kitchen The split level kitchen is basically unchanged from the original layout.
The exception is that the oven has been removed to make way for the water heater (supplied but yet to be fitted). The floor was lowered to allow a better working height. The kitchen contains a hob, 12v microwave, a 3 way fridge, wall clock, strip/led lights and plenty of cupboards. Access to the inverter, mains trip unit and 12v system are also accessed from the kitchen cupboards (see below). Bathroom The bathroom contains a drop down wash basin, curtained shower tray and Porta Potti chemical.
Living Room The living room is approximately 2m square. Fixed units include a wardrobe with cupboard under, cocktail and glass cabinets and shelving (needs finishing). Heating is provided by a Carver convector heater.
A 12volt 17 inch dvd/tv is mounted on the rear wall. An overhead light and wall lights (not yet fitted) are also provided. Two reclining suede effect lockable rocking swivel chairs are bolted to the floor either side of a position for a pillar table.
A drop down caravan table and cabinet (ex caravan) are also included. It is intended that stereo speakers and CD player (provided) will be sited at the front offside of this area. The nearside provides stowage for the bed access steps. The living room can be expanded into the cab area for extended stopovers by hinging the cab seats forward and deploying a folding floor.
The nearside passenger door is fitted with an additional unlocking position to provide for emergency escape in this configuration. Bedroom The bedroom is 50% complete. The bed base is finished and 2 x 2'6 mattresses make up a king size bed. 2 led reading lights are also fitted. Unfortunately the nearside roof above the bed has developed a leak, which has stained the interior ceiling and walls quite badly and will need urgent attention.
This part of the roof is constructed from 4mm WBP ply, screeded with a thin film of glass reinforced resin paste. Hopefrully it may just be a case of applying more screed. Electrical Installation The electrical system comprises two 12 volt systems and two 240 volt ac systems.
Basic 12 volts is provided by 2 x 100 ah deep cycle batteries maintained by 2 x 50 watt roof mounted solar panels. Auxiliary charging is by split charge from the engine when running and a ZIG unit when hooked up. An 80 ah battery is also fitted in the bonnet for backup and jump starting if required. A 10A battery charger is also provided in the bonnet, which can be switched to charge any of the batteries.
240 volt ac mains can be supplied by the normal site hook up arrangement and also by a 1kw inverter, both of which supply via a safety system. The inverter automatically disconnects if hooked up.
Documentation Range Rover Repair Operations Manual Haynes Manual Various equipment instruction manuals Drawing file, modification specifications and Certificate of Conformity DVLA correspondence file, MOTs etc. Box of receipts dare not count!
Photographs Tools and Equipment This list may not be complete or necessarily totally accurate! High Lift jack Trolley jack Screw jack Spare wheel Short step ladder Tall step ladder (carpeted for bed access) Dry powder extinguisher Water container and pump Waste water container and hose 2 stroke generator (not run much but needs fixing) 1 x 20 litre and 1 x 5 litre jerry cans Smoke alarm and gas alarms (not fitted) Rear view TV system (needs full installation) 2 folding chairs 2 Propane cylinders Propane regulator and spanner Water heater (requires installation) Water pump and filter Starting handle (to set ignition timing) Full motorhome cover Vinyl panel to be fitted in cover to allow sunlight to PV panels 3.8m telescopic latter to aid fitting cover Dual circuit brake bleeding kit Large torque spanner, extension bar and socket for wheel nuts Spare wheel Spare radiator Small solar panel for keeping the vehicle starting battery charged 12v electric drill Large quantity of sheet materials, trim and spare bits DVLA The DVLA has a file on the vehicle and have allocated a new VIN number for it. However, inspection of the vehicle by them and registration will be necessary once it is completed. Collection The vehicle is stored at present in a secure area at Southwick in Hampshire. It has been MOT'd twice in its present state and passed with minor rectifications.
However it is not MOT'd now. It is drivable but needs some tuning and would need to be transported. The site is paid for up until the end of June and owner is amenable to further extension by the new owner of the vehicle.
Summary I cannot begin to imagine how many hours I have spent working on this project. It would be great for someone to finish it off and have some fun in it. Before I retired I worked as a senior development engineer for Rolls Royce Marine Power and in my youth I served a 5 year apprenticeship for the Royal Navy.
So I hope it has been well thought out and beautifully made, but sadly not finished. Viewing May I please ask that, as the vehicle is stored some way away from my home, only truly interested parties request to view and I will arrange to meet you at the storage site, details of which I will let you have upon request. Please message with any questions.
PLEASE PLEASE NO TIME WASTERS. The item "Land Rover Range Rover Classic 2 door Campervan 6x4 Conversion" is in sale since Tuesday, June 18, 2019. This item is in the category "Cars, Motorcycles & Vehicles\Cars\Land Rover/Range Rover".
The seller is "6before" and is located in Gosport. This item can be shipped to United Kingdom.
Manufacturer: Rover
Model: Range Rover