Front control arm VIC-10583 left for LAND ROVER RANGE EVOQUE 2.0 2.0D 2.2D 11-19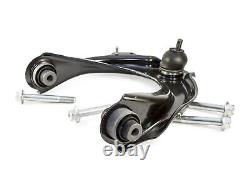 Front axle track control arm left bottom front fits LAND ROVER RANGE ROVER EVOQUE 2.0/2.0D/2.2D 06.2011-12.2019. The suspension of a car is fundamental to the safety of the driver and passengers. The comfort of traveling and the quality of driving a car also depend on its condition. The wishbones connect the steering knuckle to the body and can be positioned transversely, longitudinally or diagonally in various types of suspension. Depending on the location, lower, upper, front and rear axle wishbones are also distinguished.
Rubber-metal bushings, called silent blocks, are responsible for damping the swingarm vibrations. The swingarm is equipped with a pin connecting it with the steering knuckle, additionally stabilizing these elements.
Over time, it is necessary to replace the control arms due to their wear. Due to their function and high forces transferred, they are exposed to deformation, cracks and corrosion. The symptoms of worn or broken control arms, or components cooperating with them, are usually quite loud knocking of the suspension on bumps, jerking when starting and uncertainty of driving, especially when cornering. Delaying the repair poses an unnecessary threat to us and other drivers on the road.
The photo is a sample image. Control / Trailing Arm Type: Control Arm. OEM Number: 53-16 050 0021/HD, BCA7203, CCA1242, FCA7203, BS-L11L, BS-L14L, LR073522, LR045802, LR024473, LR078657, LVSA1819, 65376, 58609, 40-03718. Front axle track control arm left bottom front compatible with LAND ROVER RANGE ROVER EVOQUE 2.0/2.0D/2.2D 2011 2012 2013 2014 2015 2016 2017 2018 2019.