For Bmw 5 Series F10 F11 F07 Automatic Transmission Gearbox Sump Pan Filter Kit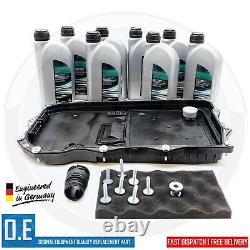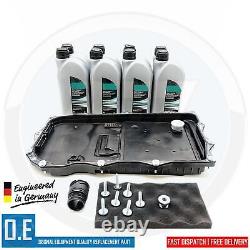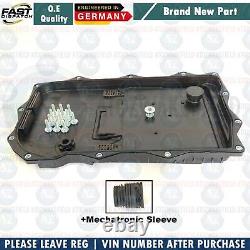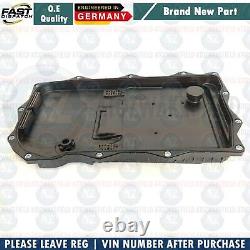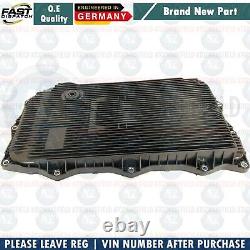 Other Fuel & Engine Management. Engine man + fuel inj parts. Air Flow Mass Meters And Parts. Front & Rear Brake Discs Pads.
Front Brake Discs And Pads. Front & Rear Brake Discs Only. Rear Brake Discs And Pads. Engine Tappets - Cam Followers.
Tensioners Pulley Idlers & Kit. Head Gaskets Sets - Kits. Timing Belt Kits And Parts.
Belt Drive Fan Timing All. Timing Chain Kits And Parts.
Springs Coil And Gas All Types. Wheel Bearing Kits - Hub Kits. Rack Track Link Bar Joints Etc. Cooling Fans & Heating Fans. Fuel Tanks And Sender Units.
Air Flow Meters - Mass Meter. Lambda Sensors - Oxygen Sensor. Spark Pugs Glow Plugs & Coils. Switches, Sensors Body & Panel. Wheel Bolts, Caps, Hubs, Nuts.
FOR LEXUS RC200t RC300 RC300h CROSS DRILLED FRONT BRAKE DISCS PADS 334mm. FOR LEXUS RC200t RC300 RC300h CROSS DRILLED FRONT BRAKE DISCS PAIR 334mm.
FOR BMW 5 SERIES F10 F11 F07 AUTOMATIC TRANSMISSION GEARBOX SUMP PAN FILTER KIT. PLEASE DO NOT BOOK YOUR SERVICE OR OPEN YOUR CAR UNTIL THE PARTS ARE PHYSICALLY WITH YOU. 24 11 7 604 960,24 11 7 613 253,24 11 7 624 192,24 11 8 612 901,24117604960,24117613253,24117624192,24118612901, JDE36541, LR065238, LR023294. Many people are not aware of this, but the transmission is perhaps the most intricate piece of any BMW. It works in conjunction with other car components to handle the speedy acceleration of the BMW. The overall health of the transmission relies on two things: transmission fluid and the transmission filter. Transmission fluid provides the lubrication needed to reduce wear on the transmission, and they also help keep it from overheating. This Kit Set Includes: Transmission Gearbox Sump Pan Filter (GASKET SEAL IS FITTED) Torque Screw Fittings Mechatronic Housing 8L Gearbox Oil (For 8hp gearbox only) Why Do i Need This Kit? There still is some wear and tear that can happen, and the transmission fluid itself can become contaminated with metallic particles. These particles can circulate through the system and add to the gradual deterioration of the transmission. The transmission filter serves to trap those metal bits and other abrasives before they start circulating through the transmission fluid. It is essential to see to it that both the transmission fluid and the transmission filter is given proper maintenance service. Signs of Transmission Problems: BMWs are known for having excellent transmissions but that does not mean they do not have to be serviced. There are some warning signs that let the owner know it's time to pay close attention to the transmission. Transmission fluid is red and if it starts to look brown there are some problems developing.
The smell of burnt rubber may not be coming from the tires but from the transmission, and that is a warning signal of a need for servicing. Other things can include unusual noises coming from under the hood or buzzing sounds.
Overheating is a primary cause of serious transmission problems. That is due the age of the transmission fluid; the older the fluid the lower the cooling properties of the liquid. This can result in problems when the owner is shifting gears, and is a flashing red light alerting the owner to a need for transmission service.
THIS CAN BE DONE BY USING THE TWO OPTIONS BELOW. FOR UK REGISTERED VEHICLES ONLY WE NEED THE UK REG OR CHASSIS / VIN. FOR NONE UK REGISTERED VEHICLES ONLY YOU MUST PROVIDE THE CHASSIS / VIN.
THIS IS A MUST AND IS NEEDED SO THAT WE CAN CHECK FITMENT. THIS WILL ALSO AVOID ANY DISAPPOINTMENT OF RECEIVING INCORRECT PARTS. IT MAY LOOK OR SEEM CORRECT BUT THERE ARE MULTIPLE VARIATIONS. We make every effort to deliver goods within the estimated timescale. However delays are occasionally inevitable due to unforeseen circumstances.
We recommend you do not book your vehicle in for any repairs until you physically have the part to save on any disappointment caused by delays. ATOZWAKEFIELD will be under no liability for any costs on damages or expenses caused by any delays. Areas where additional charges apply are listed below. The following Postcode will incur additional surcharge costs.
AB31 TO AB56, ON, BT, GY, HS, IM, IV, JE, KW, PA20 TO PA78 AND ON.. PH, PO, ZE as well as any OFF SHORE ISLANDS. We do ask that all payments are made immediately to avoid delays in dispatching your order. 30 Day's return period. Your one stop quality parts shop.
Yorkshire based distributor of quality branded parts for your car and light commercial vehicles at a fraction of the main agent prices. Authorised Distributors of: Febi Bilstein / Dunlop / Sachs / Textar / Brembo / Mahle / Elring / Victor Reinz...
To name just a few.. This is down to our offerings of quality parts and impeccable service.
MON - SAT 9.30am - 4.00pm.